Kinepolis Dordrecht
CASE STUDY
Unlike most cinemas, Kinepolis Dordrecht on the banks of the river Watershed includes a café and terrace overlooking a beautiful water feature.
The theatre includes six screens and 1,200 seats, with the entire layout of the complex designed to create a unique viewing experience - far more than just night at the movies.
No glitter and red velvet – but yellow, grey and blue tones for a modern warm atmosphere. 3D cinema technology while viewing, and innovation in design while relaxing with a drink - branch manager Peter de Baaij said: "We want visitors to feel at home. They're not on a night at the movies, but on a night out at Kinepolis."
The cinema has a distinctive layout, with a central control area, in which all operational activities take place. Everything is managed from this central hub; the cash register, the projection of the movies, the lighting and of course, the bar.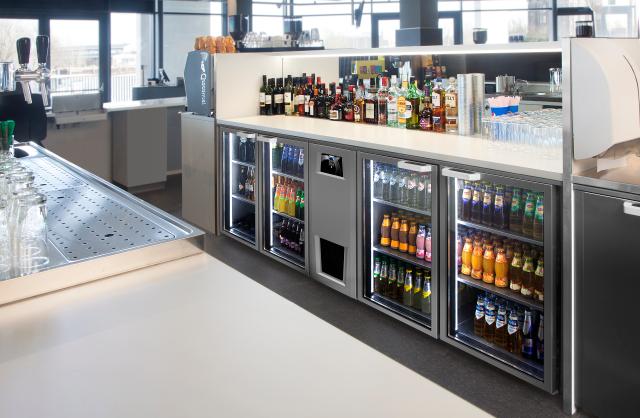 "The major advantage of this approach is that we are able to view all activities which take place in the cinema and manage staffing to suit, this helps reduce long queues and makes sure customers are helped quickly."
No fingerprints - just blue LED Cold storage in this central area could have proved an installation headache Peter said: "Everything had to be installed simultaneously and all in one place, which could have been a concern. However the Gamko team ensured it all went smoothly - if a light was not working in a cooling unit it was immediately replaced."
As well as placing the units centrally, making sure each bottle cooler was in sight, all of the units feature glass doors. This includes the refrigeration installed into a selfservice area for soft drinks bottles.
Peter added: "Visitors can help themselves to a drink, which is great, but also means the glass doors on the bottle coolers have a lot of fingerprint marks, which you do not want to see on the glass doors.
"The Gamko units feature innovative blue LED which is ideal. The shelves are designed so that other bottles do not fall over when a bottle is removed from the fridge. Such small things are incredibly important for the customer experience."
Would you like more information about Kinepolis? Please visit www.kinepolis.com.