Designing your bar - key considerations
Before a bar designer can determine the size and shape of your bar, it is important to think about the functionality of your bar and the equipment necessary to make your bar a success. Estimating how many visitors you expect, as well as the drinks consumption, and what you envisage the customer experience to be is integral to this. Gamko can help design your perfect bar, whether it is a new bar or a redesign, or if you have limited space.
There are so many options when creating your bar and it is vital that the functionality is right – both for the front bar and the back bar.
The back bar – the part that is always visible to your customers – should present your range of drinks in an appealing and logical way. This increases the opportunity of impulse choices, resulting in increased sales.
The front bar should be more practical as it is the area your staff are serving from. This is where your cocktail accessories can be integrated and you can store items out of the customers' sight.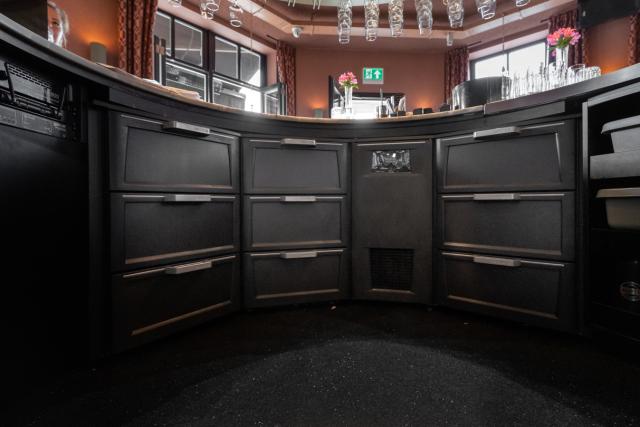 Gamko has a wide range of solutions for both your front bar and back bar. With our Flexbar, we can deliver a tailormade solution to fit your vision and exceed your expectations. In addition, we also have a wide range of bottle coolers with solid or glass doors and drawers, ice machines, keg coolers, counter top coolers, glass and bottle frosters, and more.
Unforeseen peaks in business can mean you do not have enough space in your front and back bars to keep stock at the right temperature. For situations like this, Gamko offers a range of stock coolers which can be placed in an adjoining kitchen, storage room or outside. These stock coolers can rapidly chill your drinks so that stock is always ready to be served.
Integral or remote?
There are two types of techincal solutions to consider. The first is a plug ready (sometimes called integral) cooler or freezer, where the refrigeration has a compressor built-in, like your fridge at home.
Where you have more than one or two fridges or freezers in the same area, it is more cost effective to use a remote system (also known as a split refrigeration system). This means that the refrigeration units are in one location and the compressor is placed separately, for example in a cellar or on the roof. The advantage of this is that you have more storage space under the bar, and your equipment gives off less noise and heat in the bar area. On top of this, having a remote system can reduce your energy bill, whilst reducing your impact on the environment.
Combining coolers to a single remote compressor unit is limited to two or three refrigeration units. If you are intending to have additional connections, for example the refrigerators from your kitchen, you can have multiple remote compressors. Alternatively, you could have a single compressor with greater digital capacity controlled compressors, which is made up of several compressors that connect or disconnect according to the current required capacity. This can save even more on your energy as these systems adapt to suit the required cooling capacity.