AFAS Live is well known as being the perfect place for a nice night out in Amsterdam.
People meet with colleagues, friends and family to enjoy events, and of course share a meal and some drinks.
The entertainment at the arena in Amsterdam is really varied which means customers are too. Equipment needs to be reliable, designed for quick service, fit in with the stunning aesthetics of the venue and of course provide cold drinks!

Rene Borsboom, Manager of Operations & Hospitality at AFAS Live commented: 'It is particularly important that guests feel completely at ease. The key to an attractive overall design is that all the elements, including refrigeration are considered and fit in properly. We want our venue and bars to be a must see for guests. Gamko has solved our needs perfectly. By choosing to use Flexbar eQuip, the coolers fit seamlessly into the bar area giving us a beautiful finish.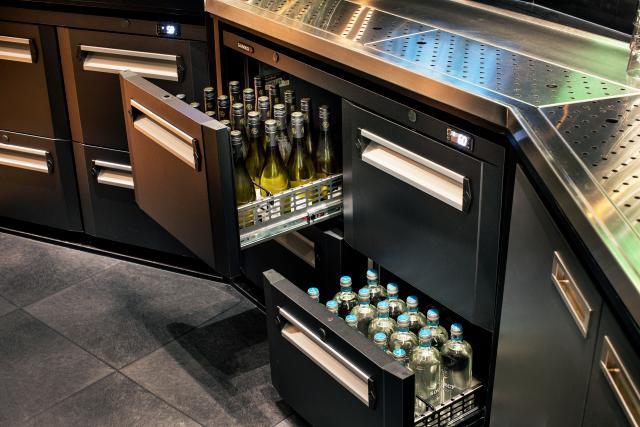 'Flexbar eQuip means you can have perfect refrigeration for your bar, designed in a way that completely suits the environment it's in.'
'Each event can be different from the last, but we can change the whole setup to suit a particular event. At concerts, there are usually seats, with our bar staff waiting behind the chairs – people can come up and quickly get served cool drinks. For a dance party, we remove the chairs and can add more bar facilities. We couldn't ask more of our
refrigeration!'
Project Facts
The entire project at AFAS Live consists of:
Flexbar 'eQuip'
- Remote beer cooler
- Maxiglass bottle coolers
- E3 bottle coolers
- GM-Line bottle coolers
- Central drinks cooling system