The Wateringhole
CASE STUDY
Thomas Nooij
Founder
Speciality beer café, The Wateringhole, in the centre of Amsterdam had a vision to create a venue where the passion for craft beer and quality food meet. Founder Thomas Nooij and his team wanted to serve thirty different beers straight from the tap, with a menu that changes to suit the seasons. To help realise that goal, they turned to respected consultants Techniek Netherlands, who recommended Gamko as the go to drinks cooling experts.
The Wateringhole has been designed so customers can choose from a variety of fresh beer straight from the tap, and it's served at the ultimate temperature.
Thomas Nooij told us: 'We turned to consultants Techniek Nederland, as they have a wealth of experience in new projects, and can help us choose practical equipment. We decided to have our keg coolers on display which not only created a sense of theatre in the venue, but meant we can serve beer from the taps. It was a great decision as it also means changing kegs is simple too. Gamko have been fantastic and installed all the pipework, couldn't have asked for more!"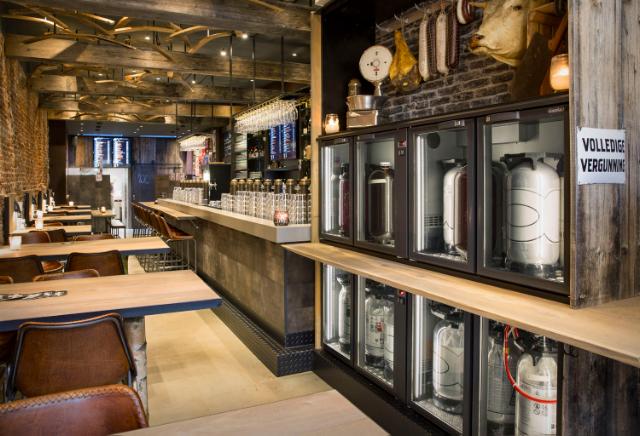 Tasting, choose and enjoy!
By choosing the partnership of Techniek Nederland and Gamko to turn the dreams for The Wateringhole into reality the venue has turned out perfectly. In addition to the draft beers, there are a variety of bottled beers to choose from. To help customers make the all-important buying decision, they are stored in bottle coolers with glass doors - people can clearly see what's on offer and make their choice.
The Wateringhole focus on giving visitors beer perfection. Thomas went on to say: 'We also have a test room, so you can taste your beer first and then make your choice. We want to make sure we stand out from the competition with what we can offer. With us you get beers that you will not see elsewhere. We offer our guests many international specialty beers and a 'grown up' menu that follows the season. You can visit us for lunch, a casual meal or a more sophisticated dining experience.'
'Gamko and Horecatechniek Nederland understood that we want to show our guests all our beers in an attractive way. They achieved it!'