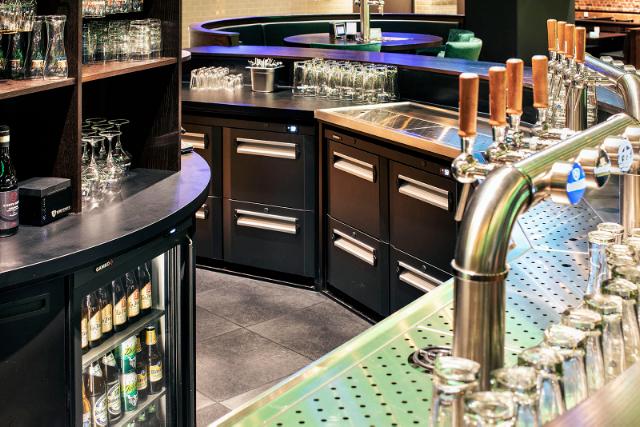 How to choose the right bottle cooler
There are many different options available to you and this guide has been designed to help you decide the best one(s) for your bar.
Things to consider:
Where it will be situated

Demand/capacity

Aesthetics

Energy efficiency
Location
Will your bottle cooler be visible behind the bar, in what is known as the back bar? Or will it be under the bar (front bar)? Is it in a serving area behind the restaurant?
Think about whether you will be using the bottle cooler as a sales tool to show off what drinks you offer or if would prefer a tidy aesthetic and have solid doors. You may want to make your bottle coolers a talking point, or if it's out of view of customers, you may prefer a certain finish.
Also think about how much space you have for your bottle cooler. Is it a replacement or are you designing a bar from scratch? Check the dimensions of a bottle cooler before you place an order.
If you bar is narrow, you could consider a bottle cooler with sliding doors so your staff can access drinks without closing off the workspace.
Capacity
Its important to understand how much capacity you will need before you choose a bottle cooler. Ideally your staff will only restock after service finishes so that all drinks are served at the perfect temperature so think about how many drinks you expect to serve. Remember not to overstock your bottle cooler as this can cause the refrigeration system to stop working.
Even bottle coolers with the same dimensions may offer different capacities, so make sure you check before purchasing. Also check what size bottle the capacity is based on, its usually 330ml as standard, but it can vary.
Aesthetics
Bottle coolers are available in multiple finishes and styles. From anthracite (black) to silver to stainless steel, to coloured, your bottle cooler can either blend in with the rest of the bar or be used to make a statement. Ranges such as our Flexbar allow you to cover your bottle cooler in unique graphics.
Beyond the finish, you could decide glass doors is for you, or solid doors, or if you'd prefer the ergonomic benefits of drawers.
Glass doored units often have white lighting as standard to showcase your range of drinks. Some bottle coolers have additional features, such as Maxiglass and E3's dimmable lighting and Flexbar's coloured lighting.
Energy efficiency
More and more, energy efficiency is becoming the focus for hospitality, where the cost of energy is fluctuating dramatically. One way of judging the energy efficiency of fridge is what energy grade it has. Remember, for bottle coolers, the test standard is different to traditional storage refrigeration, so look out for C graded products as the best-in-class.
Also consider investing in higher quality equipment as it typically will have a longer lifespan – saving you from replacement costs every couple of years.
Our ranges:
Maxiglass – Chill more. See more. Save more. With a large glass display area, this range provides an amazing view of a large quantity of drinks, encouraging impulse purchases. It can be placed under the bar, or in full view. This stylish refrigerator has the machine unit positioned out of sight at the back of the cabinet.
E3 – This powerhouse is available with 2, 3 or 4 doors. With glass or solid doors, or with solid drawers. Choose between a remote refrigeration system or an integral, plug-in unit. The E3 has the refrigeration unit to the side of the cabinet, which gives easy access for maintenance.
Flexbar - This modular refrigeration system allows you to create the ideal configuration for your business by choosing from a range of individual segments. Flexbar offers much more than just refrigeration, with ambient storage, waste disposal and barista stations. The beauty of Flexbar is that it can either blend into your décor or stand out – with coloured lighting and the option to eQuip your Flexbar.